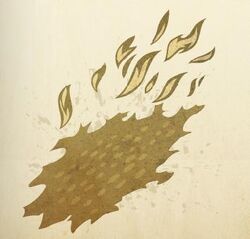 Volcanoss is a type of vegetation found in the Fire Temple.
Ninjago.com Description
Wildlife: Vegetation
Warning! Pack fireproof gloves, because it's an oven in here!
The only moss afraid of water, Volcanoss is really quite bright. It erupts at room temperature, and is perfect fuel for the Fire Temple's fire. Volcanoss doesn't make fire: it is fire.
Ad blocker interference detected!
Wikia is a free-to-use site that makes money from advertising. We have a modified experience for viewers using ad blockers

Wikia is not accessible if you've made further modifications. Remove the custom ad blocker rule(s) and the page will load as expected.