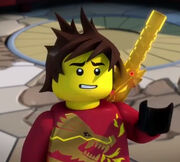 Welcome
Hi, welcome to Ninjago Wiki! Thanks for your edit to the Kai page.
Please leave a message on my talk page if I can help with anything! SaltNPepper (talk) 21:05, September 22, 2013 (UTC)
Why you were blocked
Hello Stonecoldstunner. The reason why you were blocked in the first place is because you were making counterproductive edits. You began to place unnecessary S's in words (shown here), began putting your own commentary and personal thoughts onto articles (shown here), went out of your way to distort actual words into nonexistent ones (shown here), and added redlinks for no reason (shown here).
These edits are completely unnecessary and decrease the quality of our articles, so I blocked you accordingly. I do apologize for the inconvenience, and I won't feel the need to block you again should you refrain from doing the above. SaltNPepper (talk) 19:47, January 4, 2014 (UTC)