Ninjago Newsletter Issue 2 April 15
Hello again! Im back with this weeks issue! I almost forgot about it due to yesterday being a really day (Winning First in the Destination Imagination Provincial Tournameant). In other news, my local LEGO store just opened! Well, they are doing something called a "Soft Opening" where theyre open, but just to fix the bugs before the Grand Opening. In the comments, you can share your experience when your Local LEGO store opened, or visiting a LEGO store for the first time.
Page of the Week
The Great Devourer is this weeks page of the week, because I started liking him for his consuming power. PLEASE vote more in the comments so I can pick the Page of the Week from YOU guys!
Featured Image
Quote of the week
"Its not the size of the Ninja in the fight, its the size of the Fight in the Ninja."
Kai Quoting Sensei Wu
Ask the Ninjas
Here are this weeks ask the Ninjas questions. Ask your new questions in the comments!
Casey113 asked:
Dear ninja's What snake power is the most dangerous? Venomari's spit? Constrictals grip? Hypnobrai's Hynotisim? Or the Fangpyre's Bite?
Answer:
Hi Casey! This is Jay writing to ya! To me, I really hate the Venomari spit. It makes you all "nutty", take Kai for example. Zane of coarse has his Falcon which me and Nya wired to Zane's eyes so he can see throught it. Pretty cool eh? Me and Nya make a pretty good team…. I should go ask her is she wants to make some modifications to the Samurai Mech. Woah, I think I've gone waaayyy off topic here. I'll catch ya later Case!
-Jay Walker
Blaynii asked:
Hey ninjas, are you excited about fighting the great devourer tomorrow? :P Do you think you can beat the snake? :P –Blaynii
Answer:
Im not sure on that. That devourer is large in size but with the power of 5 ½ (Lloyd isn't the best Ninja…. yet) Now that we all have unlocked our True potential, all is possible! We just need to be ready for the worst. What do those ":P" mean anyways? Is it an ancient Ninjago rune sign, or we're you trying to list things that start with the letter P? See you later youngling!
-Zane
Hikai from LU asked:
I was wondering: do you like your vehicles or dragons better? And whats your favorite suit dx zx kendo or regular?
Answer:
All depends my friend. I miss Rocky a lot, but I gotta say, my Tread isn't too bad either. Missle, 4-WD, that things got it all! As for the gear, each one is good for a different use. DX is good because it keeps you warm when you are on your Dragon, Kendo is good for practice, and ZX is a all-in-all battle suit! Now if you excuse me, I need to go do some pushups…
-Cole
SecretJinx asked:
Dear Ninjas,
You guys are SO awesome! I have a question, though. What are your guys's favorite video games?
Sincerely,
Curious
Answer:
Funny you ask. I am really good at Sitar Legend (Until Lloyd beat me 58 times in a row last weekend). I also like a new game I got called Highrim, where you get to Fly on dragons and do some really awesome stuff! This one time, I did a roll. Then my opponents dragon took an fireball to the knee! It was awesome! If you ever wanna play with me, be my guest, but I'll Burn you to the ground!
-Kai
Season 2 of Ninjago
It all started in December. There was an episode weekly, having a total of 13 episodes. The story within the episodes is well done, and links to the sets. The line that came out in early 2012/ late 2011 is based on the First 3 episodes, the the Summer ones will be based on the rest. The only 2 sets that came out that werent really apart of the first 3 episodes is the Fangpyre mech, and the Bounty, since Lord Garmadon is included. Lego must have really liked this theme, because this is the first one with a long-running TV show. Post in the comments what you liked and disliked about the Series.
Review of 9442 Jay's Storm Fighter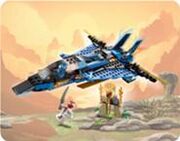 Time for this week's review. This time, im doing Jay's Storm Fighter. It has 242 pieces, the Storm Fighter, a Fangpyre shrine and Jay ZX (Without Shoulder pads) and Snappa minifigures. Snappa is a great minifig, armed well, and overall a good choice of figure to go with the sey. Im upset about how Jay ZX doesnt have his shoulderpads, I wish LEGO could have gave him them. Moving onto the Fangpyre shrine. Nothing special, it has 2 torchs on the side (That can be checked off the the Weapon list inside the manual) as well as some of the nice acid details on the bottom, and some gold touchs. Now for the Storm fighter. It has a LOT of stickets, which I am OK with, since it adds detail. Jay fits snug in the cockpit, and the feature of the set, is that if you push the engine forward, the wings pop-out. I really like the feature, and when I first built it on Christmas eve, I couldnt stop Transforming it over and over and over again! Show-wise, it is 100% accurate.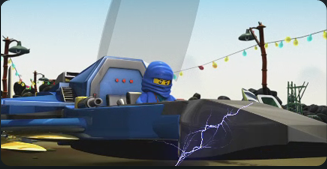 Overall is is definitly worth the money, if you are a fan of Jay or like Tv show, this is the set for YOU!
I rate this set a 9/10 mainly because of Jay ZX not having his shoulderpads
Next time........
More Ask the Ninjas questions
I will review the Rattlecopter!
Vote in the comments for the Page of the week!
Tell me in the comments if you want me to put other things in my next issue!
This is LD, signing out!
Legodude101 (Talk) 02:00, April 16, 2012 (UTC)
Ad blocker interference detected!
Wikia is a free-to-use site that makes money from advertising. We have a modified experience for viewers using ad blockers

Wikia is not accessible if you've made further modifications. Remove the custom ad blocker rule(s) and the page will load as expected.