Ninjago News: Issue 8 June 3
Hello again! We're back with a new issue of Ninjago News! I would of typed last weeks, but Casey didnt submit his reviews, and without them, the news isnt the same. ONTO THIS WEEKS STUFF!
Page of the week:
Weekly Meme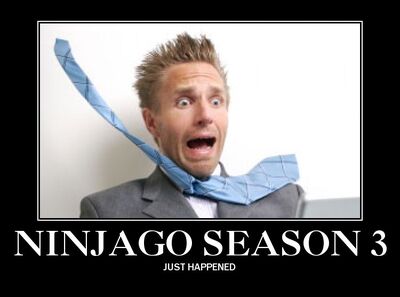 Ask the Ninjas
Prototron Asked:
Dear Lloyd...
When it was officially announced that you were the Green Ninja, were you completely ecstatic about it, because you were finally accepted into the Ninja group, or were you disappointed, because you have to confront your father, in an epic sequence that would decide the final outcome of the Ninjago storyline?
Answer:
Hey Prototron,
When I found out, I was in shock. Happy and sad, I knew this was my destiny, and there is nothing I could do to change it. Its fun being a Ninja, even if it means one day defeating my dad.
-Lloyd
Brianna113 Asked:
Dear Kai
Truthfully do you like that your sister is the samurai also what is your favorite part of being a ninja.
Answer:
Hey Brianna,
Its pretty cool to have a Sister thats a Samurai. I never thought she was that talented. Besides, knowing spinjitzu, shes a real master of Weapons!
-Kai
Casey's reviews of 9555 Mezmo and 9569 Spitta
Hello I'm Casey113 reviewing 9555 Mezmo! First off we will start off with the Minifigure. Mezmo Is AMAZING! he has the same Head mold as Spitta, but as for his printing excellent I love the Hypnobrai's eyes and Mezmo is no exception. Now on to the Weapons. We get a Pickaxe which is pretty basic nothing much, then we get a Golden Double bladed Axe thingy.... Whatever it is it sure is awesome and last we get a Chain weapon nothing special. Now on to the Card we get Nice cards i won't spoil what they are though. Now for the Shields and blades there AWESOME the blades are those new Snake blades in purple, and the shields are like Zane ZX but less cooler.
· Casey here with another 2012 Summer review for you! Today I'm reviewing 9569 Spitta! Let's start off with the Minifigure shall we? Okay now Spitta is Awesome he has the same Head mold as Mezmo but his printing is awesome. He also has four eyes like all Venomari. Also this is the easiest way to get him. Next we have the weapons there some of the coolest weapons i have ever seen. First we get a Scythe blade nothing special, then we have a Translucent Purple Viper! This is just like the Orange one they are so cool. Finally we have the Golden Poison Hammer! This thing is awesome and great for Spinjitzu! Now lets move on to the Spinner. The spinner is in a awesome Trans-Lime color and the Crown is a Trans-Purple snake. The cards are Okay nothing too good.
· All in all this Spinner set is great! If you want Spitta cheep without having to buy him in the 79.99 Ultra Sonic raider (I would still recommend the Sonic Raider.) Then this is the set to get, the Cards are okay the minifigure is Amazing, the Weapons are amazing and the Spinner is amazing. I would rate this a 9/10
Legodude's review of 9448 Samurai Mech
Today I'll be reviewing the Samurai Mech. Includes 452 Pieces, 3 Minifigures,The Constricai Fangblade, a Snake-a-pult, and the Samurai Mech! The minifigures are quite rare in this set, Bytar comes out later this year in a booster pack, but for now this is the only way to get him. Snike is 100% Exclusive to this set, making him really cool to have. Samurai X is semi-rare, also being avalible as a Spinner. For the set itself, it is great Stand-alone, or combined with any Ninjago Set. The catapult is a simple design, but since the Constrcais are short, they work as really good ammo. It can fling them REALLY far away too! The mech itself is just dangright awesome! It looks a lot like the one in the show (Except for some Minor Details). The mech is highly possable, and can stand upright without falling down. The jetpacks are kind of dissapointing, being quite small, but that can be easly modified with your own parts. It also has a Cannon (Like seem in some Pirate sets) and 1 ammo piece. All in all its a great set, I rate it 9.5/10
NEXT TIME...
More Summer 2012 Reviews!
Official pictures of the upcoming Spinner Sets
Ask the Ninjas!
AND MORE STUFF

Until next time....
"Hello brother, what took you so long"? -Lord Garmadon 20:36, June 3, 2012 (UTC)