Issue 6: May 16th
Hello everybody! Just so you all know, I will now allow people to help out on ANY part of the news. Just ask in the comments if you want to do something for the News and I'll get right on it!
Featured Meme (By Prototron)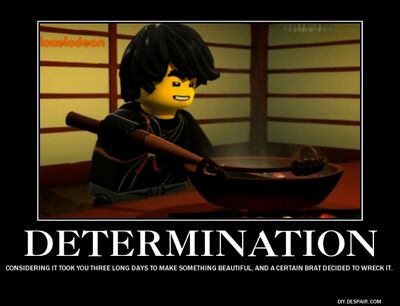 Featured Quote
"All of my training was not to become the Green Nina, but to protect him." -Kai
Page of the week
Since it was recently Mother's Day, I'm going to have to go with Edna.
Ask the Ninjas (Excuse the fonting glitch)
Casey113 Asked:
"Dear, Zane What was it like to Unlock your True Potential first?"
Answer:
Dear, Casey... Upon unlocking my true potential, I finally had the courage to overcome the true fear in this world. Call it a hunch, but I actually felt real emotion for the FIRST TIME! After I knew the truth about my father, I was encouraged of why I was here, and my intention in the world. Remember that, and you'll overcome anything. Even as a robot.
-Zane
___________________________________________________________________________
Blaynii Asked:
"Dear Jay, Hey could you teach me how to use spinjitzu as fast as you do and possibly learn how to use lightning spinjitzu?"
Answer:
Dear, Blaynii.. The way of Spinjitzu is a really easy, if you think 'bout it. You have to relate to something in your life that makes you concentrate and clear your mind. He he, it's like the time I accidentally fell off The Mountain of a Million steps, and I used pure concentration to figure out the problem. Those were good times...anyways, back on my point, think of something that allows pure serenity, and maybe you'll learn Spinjitzu! It's just "OVER THE PLANKS! DODGE THE SWORDS! AND HERE COMES THE DUMMY!".
-Jay
Brianna 113 Asked:
Dear Nya, how do you feel to Live with 6 boys and be the only girl (I know how being the only girl) also don't you want to learn spinjitzu like the ninjas?
Answer:
My brother told me that fighting villains was a job for a ninja. This led me into thinking I wasn't cut out for anything, and I was misunderstood. This is why I became the Samurai, it wasn't because of the acceptance and popularity of others, it was because I had the rights to stand up for myself, and what was equally right. I told my brother first, because he finally learned morality of why I became the Samurai, and he finally knew why I did it. Bear this in your mind, and stand up for what is right.
-Nya
SUMMER SETS ARE OUT!!!
Thats right folks, you can get them all and you can get them now! They are avalible at your local Lego Store, Target, Toys R Us, or you can order them online. For your reference, here is a list of all sets out:
Sets
Spinners/Booster Packs
Alright, this week I'm going to review the Fangpyre Mech. It has 255 pieces, 2 minifigs (Kendo Cole and Fang-Suei) along with the dangerous Fangpyre Mech. First off, im going to go over Kendo Cole. I really love these new Kendo suit. The helmet is really detailed, and the armor fits along nicely, Underneath, is sadly the old uniforms, BUT, it makes it more accurate to the movie, since they wore those uniforms whe using the Kendo gear. Cole is armed with this really cool new Sythe of Quakes. It is strong, and very effective if you want to use it as a weapon in the Spinjitzu Spinners. Now, onto Fang-Suei. Same as usual: Tooth-necklace, scaley printing, and the big head-mold. Saying about heads, mouths, and chewing. He is armed the awesome, the all-powerfull..
BANANA...ana.....ana......ana.....ana.
Now, onto the main attraction: The mech. Like all Fangpyre vehicles, it looks really nice, realyl detailed. It has tons of possability, and it can even stand on 1 leg! It also has arms that can grab Cole, a flick-missle to shoot him with, a tail that can move, and when Fang-Suei wins, he can nod the head of the Mech. I love this set mainly for its great posability, its really hard to find in Lego sets. Thought this isnt seen in the movie, it is definitly a good set. Especially since it doesnt include a Snake staff, because most collectors out there already have a TON. You know who you are.
I give this set a 9.5/10. Only because it could of had a moveable Mouth which would have made it really awesome!
NEXT TIME...
Expect review(s) of the new Summer Sets!
If you want to help out, leave something in the comments
AND MORE....
Until next time!
-Legodude