Ninjago News: Issue 11 July 29th
Hello, welcome back to the revival issue of the Ninjago News!
PageS of the week
All NEW characters pages will be the Pages of the week! Like:
Weekly Meme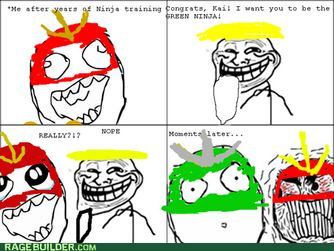 Ask the Ninjas
Green Ninja asked:
Dear Lloyd,
What do you think your father is doing right now? Where do you think Pythor is?
Answer:
Knowing my Dad, im sure hes already plotting to come after me! But the Ninja are training me 24/7 so I'll be ready for anything he wants to throw at me! As for Pythor, im sure he was destroyed when the Great Devourer ate him!
-Lloyd
The ninjas only answered this questions due to the others being too complecated. Please ask more basic questions for the Ninja to answer. Theyre too busy training Lloyd to have the time to answer all this mail!
The show continues!
So far, Darkness Shall Rise and Pirates Vs. Ninja have aired. And more to come, each Wednesday!
Youtube channel
The wikis Youtube channel has been uploading a LOT of Soundtracks lately.
And we owe it all to MisterGryphon and Prototron for these awesome songs! If you see them on chat, make sure to Thank them!
Review of set 9553 Jay ZX
This weeks set is going to be 9553 Jay ZX. It comes with 23 pieces, which make what come in an average Booster pack (Character card, 4 battle cards, Spinner defence pieces, piece to raise spinner, blades, 3 weapons, and a minifigure). The character in this set is Jay ZX, with his shoulder armor. The 3 weapons include a Golden Saw-blade, a Serpentine Striker and a Silver katana. The blades look really cool, and match with any spinner you use. The defences arent too good, but the blue spear-tips are rare parts to find, so it can be used in other ways. The battle cards are good. Very useful in Spinjitzu battle, and nice to collect
Overall this is a good set. Matched well with the NRG Jay spinner, and an awesome add to your collection!
NEXT TIME....
More reviews, news, and Ask the Ninjas!
If you have any news YOU want to submit, leave a message on my wall and I'll get to it!
LD101 – Talk / Garmadon FTW