Ninjago News: Issue 10 June 24

We're back for another action packed issue!
The Wiki is going Green!
Read all about it Here.
Page of the week
We need more voters or else I'll have to cancel this part of the news.
Weekly Meme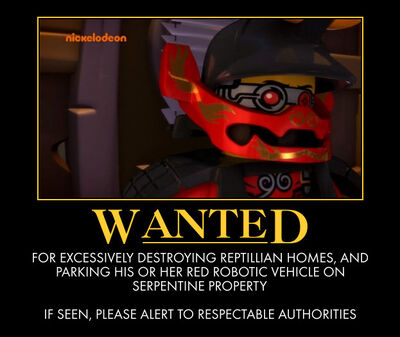 Ask the Ninjas
SecretJinx Asked:
Dear Zane,
What source of power do you run on?
Answer:
Greetings Youngling,
I run on solar energy, using solar panels located in my hair. If I were to run on another energy, like Gas or Electricity, I would have ran out one day! My creatorm was a very smart man, too bad he isnt here today.
-Zane
Casey113 Asked:
Dear Zane,
What did you mainly like about the Destiny's Bounty?
Answer:
Dear Casey,
It was special because of how it was found. In the middle of the desert. I like mysterious things, because the best part is finding the answer to them.
-Zane
Ninjago Season 2 Continues
Ninjago Season 2 Is coming! All your favorite characters return!
Watch as Kai, Zane, Jay, and Cole train Lloyd to face Lord Garmadon, who is now in control of the Serpentine! Tune in on July 18th at 8:00 PM EST!
Brianna113's review of 9572 NRG Cole
Today I'm going to be reviewing 9572 NRG-Cole! It comes with 3 weapons, a spinner, a spinner crown, and cards. The NRG-Cole minifig is amazing! He is one of the coolest NRGs. The weapons are the new Scythe, a spear, and a brown staff. The best weapon to use is the Scythe, due to there is a 50% chance of you getting out fast, but when it hits another spinner, they fly out.The spinner crown is really good the new mold really helps. I was a little disappointed on the spinner. All the other NRG spinners are awesome, but NRG Cole's spinner lacked the element he is. The character card does not have the best SP. It has 400 fire and 500 earth. The cards are Master Archer!, Provoke Anger, Snake Quakes,and Sensei's Teatime. The cards aren't the best, I found my self most of the time not using them. Overall it is a good set, but I would rate it a 8/10.
NEXT TIME....
Note: Next issue will be published this Thursday due to me being away on the weekend
THERE WILL BE EPIC STUFF
Until then!
"Hello brother, what took you so long?"" 22:20, June 24, 2012 (UTC)
Ad blocker interference detected!
Wikia is a free-to-use site that makes money from advertising. We have a modified experience for viewers using ad blockers

Wikia is not accessible if you've made further modifications. Remove the custom ad blocker rule(s) and the page will load as expected.