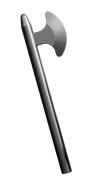 The
Trusty Axe
is a
Ninjago
weapon seen in some of the 2012
Spinner
 sets. It is a dark gray hatchet almost exactly the length of a
Spear,
 similar in form to its variant, the
Dark Axe
. It is described as a simple, inexpensive weapon that is perfect for warriors just beginning training. Although implied to be a
Ninja
weapon, it also appears in the hands of numerous
Serpentine
as well - notably,
Lasha
is known to wield a silver variant of the Trusty Axe.
Ninjago.com Description
If you're just starting out, and you have limited Ninja experience or budget, the Trusty Axe is the way to go. High quality, low maintenance and cost - you can't go wrong. You'll keep this baby forever.
Set Appearances
Ad blocker interference detected!
Wikia is a free-to-use site that makes money from advertising. We have a modified experience for viewers using ad blockers

Wikia is not accessible if you've made further modifications. Remove the custom ad blocker rule(s) and the page will load as expected.