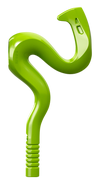 The
Toxic Viper
is a
Venomari
mini-snake
as well as a potent
Serpentine
weapon. Its venom causes hallucinations and halitosis, which can only be cured with the anti-venom in the
Venomari Staff
. Not like most Mini-Snakes, the Toxic Viper's venom appears to be as potent as that of its larger counterparts.
Ninjago.com Description
This putrid poison bomb causes its victim to hallucinate and develop really bad breath. Only anti-venom from the Golden Venomari Staff can reverse the effects.
Set Appearances
Ad blocker interference detected!
Wikia is a free-to-use site that makes money from advertising. We have a modified experience for viewers using ad blockers

Wikia is not accessible if you've made further modifications. Remove the custom ad blocker rule(s) and the page will load as expected.