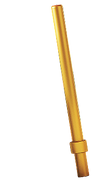 The Staff of the Dragons is a weapon included in a few Ninjago spinner sets. It appears to be a golden Nin-Jô, said to grant the speed and strength of a dragon to a wielder skilled in the art of Spinjitzu.
Ninjago.com Description
A simple weapon, but in the hands of a Spinjitzu Master, it's an unstoppable force. Spun quickly, it becomes a whirling, twirling, crushing wall with the speed and strength of a dragon.
Set Appearances
Ad blocker interference detected!
Wikia is a free-to-use site that makes money from advertising. We have a modified experience for viewers using ad blockers

Wikia is not accessible if you've made further modifications. Remove the custom ad blocker rule(s) and the page will load as expected.