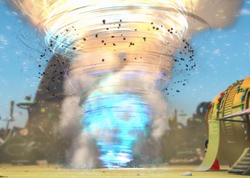 Spinjitzu
 is a martial arts technique in the world of 
Ninjago
. It involves the user tapping into their innate elemental energies while spinning rapidly, creating a tornado-like vortex of energy around themselves.
Abilities
Spinjitzu grants the user the ability to create a tornado of a specific element and color around themselves. The user and element (if one is being used) rotates rapidly, allowing fast perception and the ability to hit or spin enemies in the process.
In regards to transportation, the Spinjitzu tornado can move horizontally across surfaces at walking speed, and a bit faster speeds for more experienced users. This speed does not seem to be affected by stairs or still bodies of water. By propelling themselves upwards in a certain direction (using a jump or a running jump) and then doing Spinjitzu, the user can be carried through the air in that direction for a short time. This technique is most commonly used as a boost, but only more experienced users can keep themselves moving through the air long enough for it to be more effective then simply jumping.
The user is also given the ability to wield the Golden Weapons properly. It is unknown if this only applies to those that use the Spinjitzu of the four main elements, or to any user of Spinjitzu. One of the things required to fully master Spinjitzu is to gain one's True Potential, unlocked once the person overcomes a personal problem that was preventing them from being at peace within themselves.
Notable Uses
Sensei Wu used Creation Spinjitzu to attack Samukai during the Skulkin raid on Ignacia. He then used it to save Kai from the collapsing water tower.
Sensei Wu used Creation Spinjitzu to give the Ninja their new gis.
Known Users
Briefly
Types of Spinjitzu
LEGO Universe Only
Trivia
Gallery
In Lego Universe