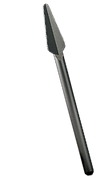 The Spear is a weapon seen in several Ninjago sets. It is a long pole with a large, pointed blade on one end, used for thrusting and charging attacks. It comes in several colors, including metallic dark gray, black, silver, and gold.
In The LEGO Ninjago Movie, Nya uses a different kind of spear as her main weapon of the film.
Ninjago.com Description
Just point The Spear where you want to go, and charge. Nothing fancy about it, it just works. Also known as Mr. Point, the Sharp One, and Owwwww!
Set Appearances
Dark Metal
​Black
Silver
Dark Brown
The LEGO Ninjago Movie
Gallery
Ad blocker interference detected!
Wikia is a free-to-use site that makes money from advertising. We have a modified experience for viewers using ad blockers

Wikia is not accessible if you've made further modifications. Remove the custom ad blocker rule(s) and the page will load as expected.