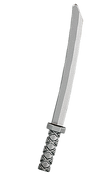 The Silver Sword (also known as the Silver Katana) is a weapon primarily used by the Ninja and less commonly used by antagonists. It appears to be a silver-colored Katana, and is a common weapon in the Ninjago theme. As with other katanas, it went under slight changes early in the theme's run, becoming slightly shorter, straighter, sturdier, and shinier.
According to the official description, the Silver Sword is as expensive as it is useful, making it an excellent weapon for display and combat purposes alike.
Ninjago.com Description
This truly remarkable and expensive blade is a work of art. Those who have it like to show it off. For some, this means hanging it on the wall, but for those who know the true value of it, they use it for fine slicing and dicing.
Appearances
Old Version
New Version
Gallery
Ad blocker interference detected!
Wikia is a free-to-use site that makes money from advertising. We have a modified experience for viewers using ad blockers

Wikia is not accessible if you've made further modifications. Remove the custom ad blocker rule(s) and the page will load as expected.