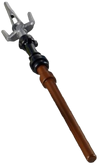 The
Silver Serpent Striker
is a weapon found in the world of
Ninjago
presumably used by the ninja . Mainly associated with the Ninja, it appears as a long spear with a brown and black shaft. The tip is silver, and features an extra point on either side of the main blade.
According to its description, the Silver Serpent Striker was made as an anti-Serpentine weapon, presumably keeping the snakes at bay with its great length. It is also apparently an effective javelin.
The Silver Serpent Striker incorporates a Nin-Jo staff and a silver Little Striker into its design.
Set Appearances
Ad blocker interference detected!
Wikia is a free-to-use site that makes money from advertising. We have a modified experience for viewers using ad blockers

Wikia is not accessible if you've made further modifications. Remove the custom ad blocker rule(s) and the page will load as expected.