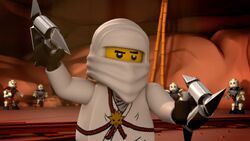 Shurikens are basic Ninja and throwing weapons used in Ninjago. Also called "throwing stars," they are metallic discs with three sharp points and a hole in the middle to decrease their weight. The Shurikens are also large to be used in close combats. Although they can be used in melee, their small size makes them impractical at best. They have appeared on the show in gold and silver variations.
Zane initially specialized in the use of Shurikens, including the Shurikens of Ice. 
Gallery
Ad blocker interference detected!
Wikia is a free-to-use site that makes money from advertising. We have a modified experience for viewers using ad blockers

Wikia is not accessible if you've made further modifications. Remove the custom ad blocker rule(s) and the page will load as expected.