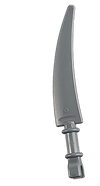 The Scythe Blade is a weapon seen in several Ninjago sets. Despite the name, it appears to be a one-handed sword with a large, curved blade (somewhat resembling a larger version of the Fangblades, minus the anti-venom/tribal emblem). According to its description, it is large and heavy, recommended for use against equally large enemies.
Ninjago.com Description
Big, heavy, and made to slice, the Scythe Blade is great for cutting down large foes. Arm yourself with two, and you'll be ready for some cool, dicing action. So what are you waiting for? Chop, chop!
Set Appearances
Ad blocker interference detected!
Wikia is a free-to-use site that makes money from advertising. We have a modified experience for viewers using ad blockers

Wikia is not accessible if you've made further modifications. Remove the custom ad blocker rule(s) and the page will load as expected.