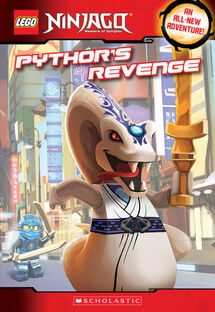 Pythor's Revenge is a Ninjago book. It takes place the day after "Day of the Departed."
Plot
Exhausted from the events of "Day of the Departed," the Ninja decided to take the day off and move into the temple. While deciding what to do, Lloyd receives a text from Dareth inviting them to a fun activity at the museum. Once they arrive, however, he reveals he needs them to clean up the mess he made during his fight with Kozu. He asks them to complete the task, claiming he needs to be present for a rumored reveal of the BorgWatch, a highly anticipated device designed by Cyrus Borg. Dareth then leaves them to fix the mess. Pythor heard it all and stole the prototype, threatening to reveal it all on tv.
Ad blocker interference detected!
Wikia is a free-to-use site that makes money from advertising. We have a modified experience for viewers using ad blockers

Wikia is not accessible if you've made further modifications. Remove the custom ad blocker rule(s) and the page will load as expected.