"That's not what happened at all!"

This article is about something not canon to the storyline of the TV show, Ninjago: Masters of Spinjitzu, or the LEGO Cinematic Universe.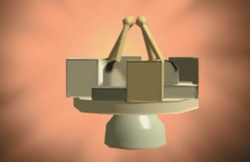 The Primal Fulcrum is an object in the world of
Ninjago
.
History
Under Construction
Functions
There is little info of how the Primal Fulcrum functions, but it is known that if the Fulcrum where to be used with the Elemental Forges, it can open a portal to the Cursed Realm.
Gallery
Ad blocker interference detected!
Wikia is a free-to-use site that makes money from advertising. We have a modified experience for viewers using ad blockers

Wikia is not accessible if you've made further modifications. Remove the custom ad blocker rule(s) and the page will load as expected.