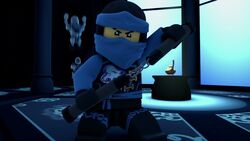 Nunchucks (or Nunchaku) are basic Ninja weapons used in Ninjago. The Nunchucks are two handles that are connected to a flexible chain to make it a weapon. Nunchucks are one of the greatest Ninja weapons that can be used in melee combat. In the show, the Nunchucks come in black handles.
Jay initially specialized in the use of Nunchucks, including the Nunchucks of Lightning.
Appearances
Gallery
Ad blocker interference detected!
Wikia is a free-to-use site that makes money from advertising. We have a modified experience for viewers using ad blockers

Wikia is not accessible if you've made further modifications. Remove the custom ad blocker rule(s) and the page will load as expected.