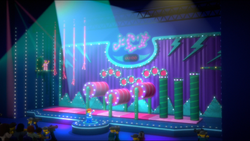 Most Ultimate Extreme Ninja Challenge Ever, (Formerly known as Ninjaaa....Now!!) is a TV show in Ninjago. Produced by Rachel Sparrow, it involves a contestant trying to complete the "Gauntlet of Humility," while being timed by the Doomsday Clock. Fred Finley originally hosted it, but was replaced by Jay.
History
Cathy competes, though only gets halfway through the course.
While celebrating the defeat of Chen, Griffin Turner expressed interest in participating in the series.
While Jay changes the channel, the "Most Ultimate Extreme Ninja Challenge Ever" is shown on the television.
Trivia
There has been no evidence Jay hosted the show after the Tournament of Elements, so it's unknown if he gave the hosting job to another person or if he ended the TV Show.
Gallery
Ad blocker interference detected!
Wikia is a free-to-use site that makes money from advertising. We have a modified experience for viewers using ad blockers

Wikia is not accessible if you've made further modifications. Remove the custom ad blocker rule(s) and the page will load as expected.