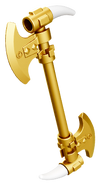 Mezmo's Golden Hypno Fang
is a weapon seen in two LEGO
Ninjago
 sets. It is a golden staff with a golden axe blade and a white spike on either end. In addition to conventional use as a weapon, it can 
hypnotize
 enemies with a whizzing noise produced when it is spun rapidly. 
Although primarily associated with Mezmo, Cole has also wielded the Golden Hypno Fang against the Fangpyre Wrecking Ball.
Ninjago.com Description
Spins with a whizzing sound that hypnotizes your enemy. Mezmo's specialty.
Set Appearances
Ad blocker interference detected!
Wikia is a free-to-use site that makes money from advertising. We have a modified experience for viewers using ad blockers

Wikia is not accessible if you've made further modifications. Remove the custom ad blocker rule(s) and the page will load as expected.