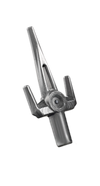 The
Little Striker
is a weapon used in LEGO's 
Ninjago
theme. It is a sai, a knife or dagger of Japanese design with a three-pronged blade. It appears in several colors, including silver, metallic dark gray, and gold.
Ninjago.com Description
An excellent Ninja weapon for when it gets up close and personal.
Set Appearances
Silver
Dark Gray
Gold
Ad blocker interference detected!
Wikia is a free-to-use site that makes money from advertising. We have a modified experience for viewers using ad blockers

Wikia is not accessible if you've made further modifications. Remove the custom ad blocker rule(s) and the page will load as expected.