LEGO Ninjago: Rebooted is a game that had released in 2014.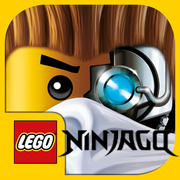 App Description
Help the Ninjas of Ninjago fight against the evil forces of the Overlord as they make their way to the top of the great Borg Tower!
Use your awesome ninja skills to avoid dangers and defeat enemies.
Climb up the elevator shaft and run through hallways with both Vertical & Side scrolling action!
Collect LEGO bricks to unleash awesome power ups that help you in your mission.
Play the story mode to defeat bosses and save the inhabitants of the Ninjago Universe!
Play the endless mode to see how high you can score!
Power-Ups
Shield
It gives you invincibility until you touch a hazardous object or an enemy. (Both Directions)
Magnet
It is a magnet that only touches coins. (Both Directions)
Cloaking Device
It is a Nindroid costume that have invincibility until it is time. (Both Directions) 
Mega Jump
It gives you to fly very high until it is time. (Only can be in Vertical)
It gives you Spinjitzu that has the ability to defeat enemies and have invincibility until it is time. (Only can be in the Side)
Green Ninja
It gives you Lloyd that can defeat the enemies with his Golden Katana until it is time for him to go away. (Only can be in the Side)
Gallery
Ad blocker interference detected!
Wikia is a free-to-use site that makes money from advertising. We have a modified experience for viewers using ad blockers

Wikia is not accessible if you've made further modifications. Remove the custom ad blocker rule(s) and the page will load as expected.