"Movie magic!"

This article is about a subject that is canon to the storyline of the LEGO Cinematic Universe.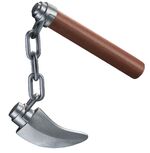 Jay's Flail is a Ninja weapon used in The LEGO Ninjago Movie. The Flail appears as a stick that is connected to a chain with a blade sticking out the end of the chain. The flail can be used for melee combat and other fighting purposes. In the movie, Jay used it as his main weapon of the film.
Official LEGO.com Description
Jay's weapon is intimidating in action, and more than a few Shark Army warriors wish they had never encountered it.
Set Appearances
Gallery
Ad blocker interference detected!
Wikia is a free-to-use site that makes money from advertising. We have a modified experience for viewers using ad blockers

Wikia is not accessible if you've made further modifications. Remove the custom ad blocker rule(s) and the page will load as expected.