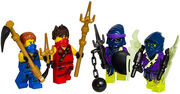 Howla is a minor antagonist in the fifth season of LEGO Ninjago: Masters of Spinjitzu. He is a former prisoner of the Cursed Realm who was eventually released by Morro into Stiix during his quest to free The Preeminent and wreak havoc on the Sixteen Realms.
Trivia
Unlike all the other Ghost Warriors, Howla's facial features are very unique, as his face is scorched black while having purple eyes and green lines running down his cheeks. 
Ad blocker interference detected!
Wikia is a free-to-use site that makes money from advertising. We have a modified experience for viewers using ad blockers

Wikia is not accessible if you've made further modifications. Remove the custom ad blocker rule(s) and the page will load as expected.