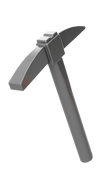 The
Grim Pick Axe
is a weapon that was released in a few Ninjago
Spinner
sets, but is common in other LEGO themes, especially LEGO City Mining. It is a grey pick axe said to have been popularized by snowy dwarfs as a mining tool and a weapon alike.
Ninjago.com Description
Whether you want to strike it rich, or just strike your enemy, pick up a Grim Pickaxe. Made popular by the snowy dwarfs – who liked to dig the whole day through – there's nothing a grim mining weapon can't do. 
Set Appearances
Trivia
This weapon was introduced and originally used in the power miners theme.
Ad blocker interference detected!
Wikia is a free-to-use site that makes money from advertising. We have a modified experience for viewers using ad blockers

Wikia is not accessible if you've made further modifications. Remove the custom ad blocker rule(s) and the page will load as expected.