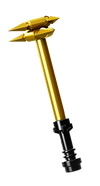 The Golden Star Hammer is a LEGO Ninjago: Masters of Spinjitzu weapon used mainly by Kendo Zane. It appears to be a black-and-gold hammer with a small, spiky head made of two hammerhead segments (actually a pair of golden Shurikens stacked on the tip of the handle). It is apparently designed to strike with the maximum amount of force, but works best at close range.
LEGO.com Description
Stay cool with Zane's favorite hammer of calamity. Not just a pretty design, this versatile star will always hit its target with maximum force. Strike up close for best results.
Appearances