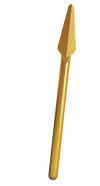 The Golden Spear is a weapon found in 2011 and 2012 sets. As the name points out, it is a Spear made of gold, described as being both rare and extremely valuable.
Ninjago.com Description
The rarest of all spears, the Golden Spear makes an incredible point. It's also quite valuable... so, if you have to be struck by a spear, make sure it's golden.
Set Appearances
Ad blocker interference detected!
Wikia is a free-to-use site that makes money from advertising. We have a modified experience for viewers using ad blockers

Wikia is not accessible if you've made further modifications. Remove the custom ad blocker rule(s) and the page will load as expected.