The Golden Pick Axe is a Skulkin weapon used by Bonezai. As the name suggests, it is large pick axe, identical to the Grim Pick Axe apart from it being a golden variant. According to its official description, it is made of solid gold and is highly desired (whether for its monetary value or its power in battle).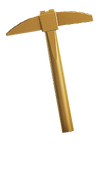 Ninjago.com Description
No matter who or what you are digging, the Golden Pickaxe makes a deep impression. Made of solid gold, it's really made for fighting... It has to be, everyone wants it.
Set Appearances
Ad blocker interference detected!
Wikia is a free-to-use site that makes money from advertising. We have a modified experience for viewers using ad blockers

Wikia is not accessible if you've made further modifications. Remove the custom ad blocker rule(s) and the page will load as expected.