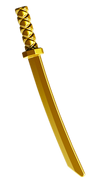 The Golden Katana is a LEGO Ninjago: Masters of Spinjitzu weapon mainly used by the Ninja. As the name suggests, it is a gold-colored Katana. As with other katana variants, its design was upgraded early in Ninjago's run, with the new version featuring a brighter sheen and a slightly shorter, straighter, and sturdier blade, as well as a square shaped tsuba instead of an octagonal one.
It is described as being a popular weapon in training and combat situations. The official description warns that it can easily harm the wielder unless they have well-developed balance and fine motor skills.
Ninjago.com Description
Popular Ninja weapon, especially in the training arena. Requires excellent balancing and fine motor skills. Watch your nose the first couple of times you swing it.
Set Appearances
Predecessor
Current Version
Trivia
The Golden Katana was the crude 2011 variation of the Sword of Fire, before the new mold was released.
Gallery
Ad blocker interference detected!
Wikia is a free-to-use site that makes money from advertising. We have a modified experience for viewers using ad blockers

Wikia is not accessible if you've made further modifications. Remove the custom ad blocker rule(s) and the page will load as expected.