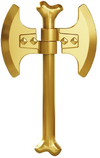 The
Golden Double-Bladed Bone Axe
is a
Ninjago
weapon used by
Nuckal
. It appears as a golden double-headed axe with a bone for a handle.
This weapon also appears in white bone and gunmetal axe-heads with Anacondrai Cultist Krait.
A non-golden replica appears in the Ninjago Special Day of the Departed, being held by Samukai's statue in the Hall of Villainy at the Ninjago Museum of History.
Appearances
Golden
Non-golden
Ad blocker interference detected!
Wikia is a free-to-use site that makes money from advertising. We have a modified experience for viewers using ad blockers

Wikia is not accessible if you've made further modifications. Remove the custom ad blocker rule(s) and the page will load as expected.