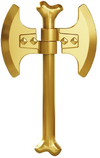 The Golden Double-Bladed Bone Axe is a LEGO Ninjago: Masters of Spinjitzu weapon used by Nuckal. It appears as a golden double-headed axe with a bone for a handle.
This weapon also appears in white bone and gunmetal axe-heads with Anacondrai Cultist Krait.
A non-golden replica appears in the Ninjago Special Day of the Departed, being held by Samukai's statue in the Hall of Villainy at the Ninjago Museum of History.
Appearances