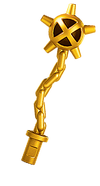 The
Golden Battle Mace
is a weapon used mainly by
Frakjaw
and
Chokun
. It is a golden flail used by
Serpentine
and
Skulkin
alike for its incredible power. It has a variant is the
Silver Battle Mace
.
Ninjago.com Description
Nothing screams Evil Superstar better than the Golden Battle Mace. Made for the truly evil, this ball and chain of destruction makes an awesome impact. It hits 'em so hard, they'll see stars... golden, spiked, burning stars.
Set Appearances
Ad blocker interference detected!
Wikia is a free-to-use site that makes money from advertising. We have a modified experience for viewers using ad blockers

Wikia is not accessible if you've made further modifications. Remove the custom ad blocker rule(s) and the page will load as expected.