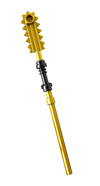 The Gold-Bladed Saw Staff is a weapon used in the land of Ninjago. It is a long black and gold staff with a golden chainsaw on the head, described as requiring extensive training and a steady hand to use in combat.
Ninjago.com Description:
The Gold-Bladed Saw Staff requires a steady ninja hand to master in combat. If you're new to this weapon, you can always start your training by using it to slice bread.
Appearances
Ad blocker interference detected!
Wikia is a free-to-use site that makes money from advertising. We have a modified experience for viewers using ad blockers

Wikia is not accessible if you've made further modifications. Remove the custom ad blocker rule(s) and the page will load as expected.