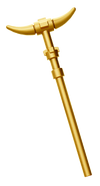 Fangdam's Golden Staff
is a
Serpentine
weapon. It resembles a longer, pure gold version of the 
Staff of Control
, and is said to be an upgraded version of the former. It can apparently negate the strengths of enemy weapons. It appears in
Fangdam
's spinner.
Ninjago.com Description
Like Rattla's Staff of Control, Fangdam's golden upgrade version here will mess up your own weapons' strengths. But hey, that's just a chance for you to practice working under pressure. You'll be fine. Most likely.
Set Appearances
Ad blocker interference detected!
Wikia is a free-to-use site that makes money from advertising. We have a modified experience for viewers using ad blockers

Wikia is not accessible if you've made further modifications. Remove the custom ad blocker rule(s) and the page will load as expected.