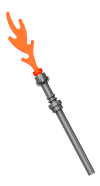 The
Dragon's Fire on a Stick
is a
Ninjago
 weapon used by
Kai
. It is a silver staff with flames (the titular "
dragon
's fire") emitting from one end. According to its official description, it is an upgraded version of the 
Dragon's Fire
, with a long handle making it safer for the user while retaining its devastating power to use against enemies.
Ninjago.com Description
This is a newer version of Dragon's Fire. As you know, Dragon's Fire is very volatile and the risk of getting hurt yourself, rather than injuring your enemy, was simply too great. So this version on a stick was created to improve safety for the user. It's still pretty horrible to be at the receiving end of it, though.
Set Appearances
Ad blocker interference detected!
Wikia is a free-to-use site that makes money from advertising. We have a modified experience for viewers using ad blockers

Wikia is not accessible if you've made further modifications. Remove the custom ad blocker rule(s) and the page will load as expected.