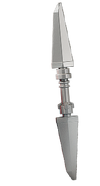 The Double-Bladed Dagger is a weapon from Ninjago, associated with the Ninja. It is a silver dagger with large, triangular blades on both ends, described as being a useful weapon for inexperienced fighters to use. There is a single-sided version of this, known as the Silver Nick Dagger.
In LEGO Universe, a weapon known as the "Imagination Spinjitzu Double-Bladed Dagger" appears. It is identical to the Double-Bladed Dagger, but it allows the user to perform "Imagination Spinjitzu," a unique Spinjitzu that appears to be a mixture of Ice and Lightning.
Ninjago.com Description
Twice the fun of a regular dagger, this handy weapon can attack danger from either side. It's a great weapon for the new hero.
Set Appearances
Ad blocker interference detected!
Wikia is a free-to-use site that makes money from advertising. We have a modified experience for viewers using ad blockers

Wikia is not accessible if you've made further modifications. Remove the custom ad blocker rule(s) and the page will load as expected.