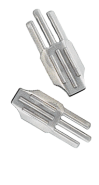 Dark Talons are weapons used by the Ninja in LEGO's Ninjago theme. They are silver gauntlets with three claws protruding from the tip, said to be made from the talons of Dark Condors.
Set Appearances
Trivia
In all three of the sets he is featured in, Master Chen wields a single Dark Talon but in the TV show, he is never seen with one. 
Ad blocker interference detected!
Wikia is a free-to-use site that makes money from advertising. We have a modified experience for viewers using ad blockers

Wikia is not accessible if you've made further modifications. Remove the custom ad blocker rule(s) and the page will load as expected.