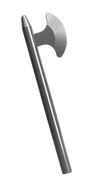 The
Dark Axe
is a weapon seen in some 2011 and 2012
spinner
 sets. It appears as a gray hatchet, similar to the
Trusty Axe
. According to its official description, it is commonly used in kendo training and has no unique attributes.
Ninjago.com Description
Standard issue in every Kendo training environment, this axe has no magic powers--just reliable, sheer steel superpower.
Set Appearances
Trivia
Ad blocker interference detected!
Wikia is a free-to-use site that makes money from advertising. We have a modified experience for viewers using ad blockers

Wikia is not accessible if you've made further modifications. Remove the custom ad blocker rule(s) and the page will load as expected.