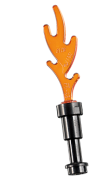 The
Dagger of the Dragon's Breath
is a weapon in some 2011
Ninjago
 sets. It is a small dagger with a black hilt and a fiery orange blade, although it is unclear if the latter is engulfed in flames or actually made of fire. According to the official description, the flames are rumored to come from a tiny fire dragon living within the dagger.
This weapon is very similar to the Dragon's Fire. It also bears a strong resemblance to a torch.
Ninjago.com Description
It is rumored that the Dagger of Dragon's Breath is alive… that it holds a tiny fire dragon in its handle…one that will do its master's bidding. Even if it's not true, it doesn't change the fact that this dagger is on FIRE!
Set appearances
Ad blocker interference detected!
Wikia is a free-to-use site that makes money from advertising. We have a modified experience for viewers using ad blockers

Wikia is not accessible if you've made further modifications. Remove the custom ad blocker rule(s) and the page will load as expected.