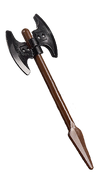 The
Constrictai Double-Headed Axe
is a weapon used mainly by
Skalidor
. It is a dark brown axe with a large, black, double-bladed head and a large point on the opposite end (alternately, it is a dark brown
Spear
 with black axe blades on the opposite end). Some versions of this weapon have a slight variation or factory error, where the bottom of the spear is flat instead of rounded.
Apparently, the axe is only wielded by Skalidor himself, whose great strength presumably allows him to use it to devastating effect.
Ninjago.com Description
Favorite weapon of Skalidor, General of the Constrictai tribe. But if you could lure it from him, it would definitely work well in a fight against certain Fangpyre tribe leaders we know.
Set Appearances
Ad blocker interference detected!
Wikia is a free-to-use site that makes money from advertising. We have a modified experience for viewers using ad blockers

Wikia is not accessible if you've made further modifications. Remove the custom ad blocker rule(s) and the page will load as expected.