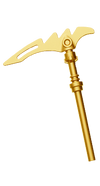 Cole's NRG Golden Blade is a LEGO Ninjago: Masters of Spinjitzu weapon used mainly by Cole. It appears as a large golden scythe, with a blade almost as long as the shaft itself. The top of the blade has a jagged edge, and a long hole is present in the metal nearing the tip.
It is described as being a high-maintenance weapon that should not be used for anything other than fighting, as the blade is easily dulled. It appears to have been inspired by the Scythe of Quakes, and may have been intended to be an improved version of it.
Ninjago.com Description
Together, Cole and his faithful NRG blade are invincible. It takes a lot of looking after, and you should NOT attempt to use it for cutting down trees or digging trenches. It dulls the blade.
Appearances
Day of the Departed
Gallery
Ad blocker interference detected!
Wikia is a free-to-use site that makes money from advertising. We have a modified experience for viewers using ad blockers

Wikia is not accessible if you've made further modifications. Remove the custom ad blocker rule(s) and the page will load as expected.