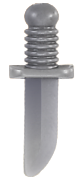 Bowie Knives are weapons from Ninjago, mainly wielded by the Ninja. They appear as simple knives with a short, slightly curved blade, and are described as "timeless" weapons used throughout history by ninja. They come in silver and gold versions, sometimes being part of larger weapons.
Official Description
Time may change, but Bowie Knives are timeless. From cavemen to clowns, to sailors fighting spiders in dance halls, everyone uses these classic hip-holstered weapons.
Set Appearances
Silver
Gold
Ad blocker interference detected!
Wikia is a free-to-use site that makes money from advertising. We have a modified experience for viewers using ad blockers

Wikia is not accessible if you've made further modifications. Remove the custom ad blocker rule(s) and the page will load as expected.