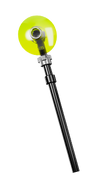 The Blinding Staff is a weapon used by Lloyd Garmadon. It is a black and grey staff with a yellow disc on one end. The latter emits light that can illuminate areas or blind opponents, and the staff's light output can be adjusted for short and long range use.
LEGO.com Description
Even the darkest lord in training sometimes needs a light. In Lloyd's case, this Blinding Staff is perfect for, well, blinding his enemies. Adjustable for close or long range use.
Appearances
Ad blocker interference detected!
Wikia is a free-to-use site that makes money from advertising. We have a modified experience for viewers using ad blockers

Wikia is not accessible if you've made further modifications. Remove the custom ad blocker rule(s) and the page will load as expected.