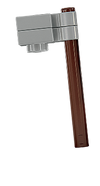 The Blacksmith's Hammer is a tool used by blacksmiths. There are two types of hammers: a three-piece hammer that can be used as a weapon, and a small, one-piece black hammer.
Official Description
Used to make weapons, the Blacksmith's Hammer also packs quite a punch. Though not typically considered a weapon, anything that can beat metal into shape is great for smashing skeletons.
Set Appearances
Black Variant
Ad blocker interference detected!
Wikia is a free-to-use site that makes money from advertising. We have a modified experience for viewers using ad blockers

Wikia is not accessible if you've made further modifications. Remove the custom ad blocker rule(s) and the page will load as expected.