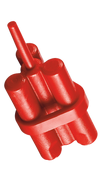 Badaboom Dynamite is a LEGO Ninjago weapon seen in a few sets. It appears as four sticks of dynamite strapped together and attached to a single fuse. One of the few ranged weapons in Ninjago sets, it is thrown after the fuse is lit in order to create a powerful explosion when the fuse burns down. Equally effective at clearing debris, blasting holes, and destroying enemies, Badaboom Dynamite is apparently a product of the Ninjago Mining & More Corporation, Inc.
Ninjago.com Description
Makes things go Badaboom. No mysteries there. Available at any Ninjago Mining & More Corporation, Inc. outlet store. (Permit and level five training diploma required.)
Set Appearances
Ad blocker interference detected!
Wikia is a free-to-use site that makes money from advertising. We have a modified experience for viewers using ad blockers

Wikia is not accessible if you've made further modifications. Remove the custom ad blocker rule(s) and the page will load as expected.