Acronix is one of the Time Twins and the sibling of Krux. He is set to appear in the 7th Ninjago Season: Hands of Time.
History
Decades ago, Acronix and his twin brother Krux would become known by
Master Wu
. They would have engaged in a fight with Wu and Garmadon at the Monastery, as depicted in a painting at the Museum. They would then somehow, suffer a fate that would leave them 'lost to time'.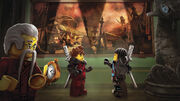 Falling asleep at home following his battle with Clouse, Wu would be stricken by a horrible nightmare filled with several visions of the past, such as the return of Acronix and Krux.
Sets
Trivia
Notes
Like Lloyd, Acronix's hair piece was originally used for a Star Wars character, as a brown version was first released with Qui-Gon Jinn.
Acronix is named after Acronis, a digital file sharing software used for processing the show.
Ad blocker interference detected!
Wikia is a free-to-use site that makes money from advertising. We have a modified experience for viewers using ad blockers

Wikia is not accessible if you've made further modifications. Remove the custom ad blocker rule(s) and the page will load as expected.